Quick Access:
Breaking news
[
]
21-JAN: MLP (MNL) ARE THE SEA INTERNATIONAL 2016 CHAMPIONS!
19-JAN: All rewads should be paid before 25-JAN. Arthur and HR will contact the captains before that date.
Livestream page has been updated for next day: 7-January.
29-Dec: Wiki updated here: Main event, sorry for the lack of info last week! Planning for next weeks will come before tomorrow.
Welcome to the Gameloft SEA DOTA2 International Wiki!
[
]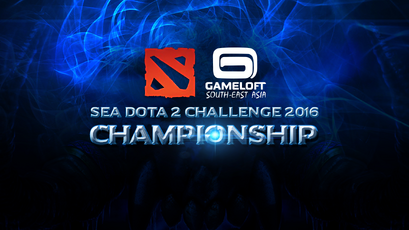 This is the Wiki where we'll keep all information about the 2016 SEA Dota 2 tournament.
First, take a quick look at the Rules page.
Wanna know about the match plannings & results ? Take a look at the overall Timeline or at the Group Stages page.
Who's competing ? Head over to the Teams tab to get an overview of the teams and players coming from all over South-East Asia.
Want to know the details of the prize pool and winnings ? Take a look at the Rewards page.
Feel free to contribute / comment any page. For any questions: Contact Arthur in the Contact section.
Watch the action live!
[
]
Head over to the Livestream page for channels & videos!
Want to be part of the casting crew ? We are recruiting:
English casters/analysts
Casters in other languages
Highlights video editor
Latest activity
[
]